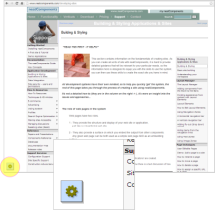 The Toolbox is an icon containing a menu of editing tools. It normally floats at the bottom left of the screen when you are logged on with editing permissions.
When you mouse-over the icon it expands to show a list of options.
The options available will depend both on the type of component you are looking at, and the permissions you have been given.
Common options include 'Edit Page'/'Edit Section' which open the Text Editor for that page/section, and 'Behavior Editor', which opens a dialog to allow you to adjust the style, settings, and permissions of the page.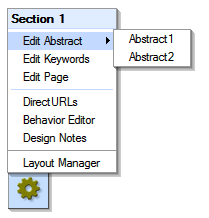 Edit Keywords - provides access to the Keyword field associated with the component to facilitate searching
Edit Abstact - opens the Text Editor for the Abstracts (the secondary, rich text area associated with a component).
DirectURL Editor - enables the designation of a Direct URL for the component which will also be displayed in preference to the default numerical schema of the Navigation system.
Design Notes - enable you to leave short notes explaining unusual configuration.
Layout Manager - will open the Layout Manager in a new window.
---
More information
Some Components have extended (or reduced) Toobox context menus that reflect the special options associated with them, or their place in the site.

The example, above, is from a Table Component.