The Server
The neatComponents engine is installed either in the Cloud or on a server - a computer on your network or somewhere else on the Internet.
You access your site or application across the Internet using a web browser. There is no special local software to install. There is no FTP required - everything is done using just your browser.
Your Browser
You work using your ordinary web browser - Firefox, Chrome, Internet Explorer or Safari.
You simply browse to your website or application just like a regular visitor.
For example: www.clearstring.com and use the login link.
If you are using a site on our Cloud you will have been emailed the URL
You login with the Administrator username and password and you will see a 'gear' appear in the lower left of the screen.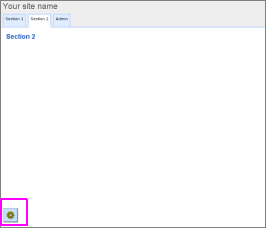 The Gear is the key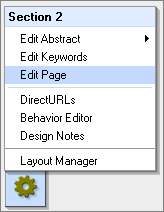 The Gear (just place your mouse over it) opens the Toolbox which enables you to work with the site direct - creating, removing and updating pages and other components.
It gives you access to the:
edit controls,




style,




settings and permission controls
for every component that you use.
It also gives you access to the Layout Manager - the bottom item on the Toolbox-menu
The Layout Manager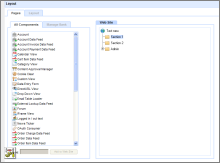 The Layout Manager is where you build your site or application by dragging components into place.
Navigation is automatic and links between pages are automatically set and reset if you move pages or other components around.
How do I use these tools?
The links in the right-column of this page take you to detailed explanations.
- and look out for the

symbol. It will take you to step-by-step instructions in the Tutorial.