Every component of the website has a Behavior Editor associated with it. The Settings view of the Behavior editor changes depending on which component you are currently working on. The Settings allow you to control the behavior of the Component. For example, when you are working on the site's navigation you may want to control whether the visitor progresses automatically to the first page of a Section, or not by using the 'Redirect to First Child' control.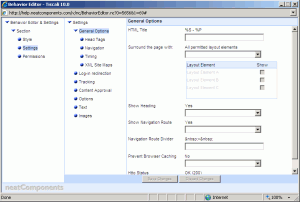 Behavior Editor Settings are also where the site designer enters the Meta-tag and Meta-Keyword information to assist in placement in Internet search engines.
Each component has different properties associated with it, as are appropriate for the Component's function. For example the Settings options of a Section (see top right) differ from those of a Page (see right).
Common Settings are settings common to all the components in the site. You can set them individually, just as with all settings, but you can expect to find them in all the different components.
Other frequently accessed Settings in basic Page Editing of Pages and Sections:
Title: -whether a Title is shown on the page - the default case shows the page title at the head of the page.
Navigation Route: - whether the inline style of Navigation shows on the page (see top of this page).
Explicit Layout Elements: - whether all, some, or none of the site's navigational or structural elements are displayed for this particular Section or Page.
| | |
| --- | --- |
| | General Options |
| | These settings include Head Tags, content that goes in the <head> section of the HTML; and Navigation, which gives advanced control over the navigation links that are used to represent the page. |